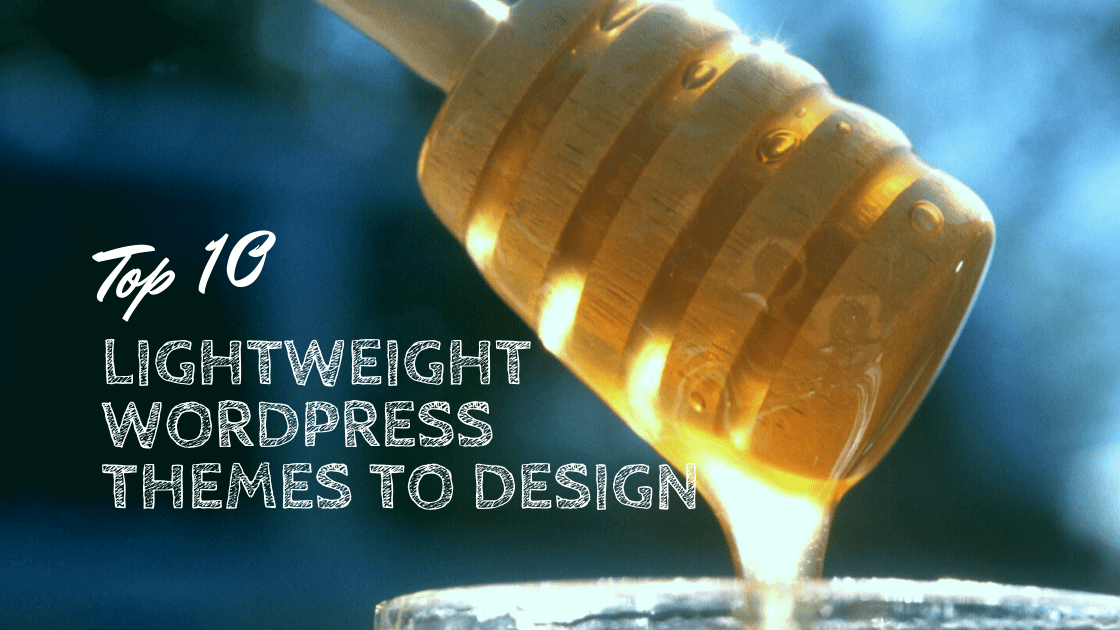 Let me ask you a question, do you wait for more than 10 seconds for a website to load? The answer will most probably be no unless there is no other alternative. Everyone will do the same, right? Google has entitled load speed as a crucial ranking factor since 2010 for Desktop and 2018 for mobile. Page speed is one of the factors that stand between prospects and conversion.
WordPress hosts lavish lightweight WordPress themes to help users have a smooth user experience and rank higher on the Search engine results page. With countless themes out there, it is difficult for anyone to go through them and pick one. And that is why we have created a list of the top 10 lightweight WordPress themes for you.
But what is a lightweight WordPress theme?
If you are an average WordPress user, the term "lightweight" won't have much context. A website filled with high-quality images and effects takes some time to load. The high-quality image is a synonym of large file size in a theme likewise; animations and effects mean pages of code. Both impact the load speed of a page. Lightweight themes pack minimalistic and essential features at their best and lay the foundation for quick load speed.
Top 10 Lightweight WordPress Themes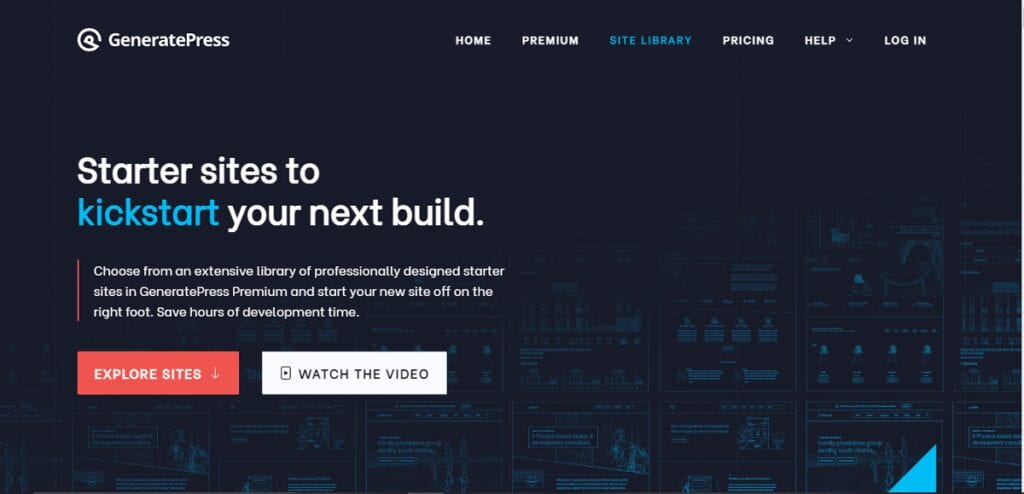 GeneratePress takes pride as a lightweight theme with, focus on speed, stability, and accessibility. With user experience being the top priority, you can experience its smooth interface through a premium or paid version.
The high-quality coding standard with features such as swapping out jQuery for vanilla JavaScript offers substantial benefits. Boasting the support for various WordPress plugins including, WooCommerce, GeneratePress is a solid and sleek theme.
Mobile responsive design
A lightweight theme
A site that speaks for you through customization (a plethora of color and typography options)
Custom CSS option
Accessible for everyone with support for over 20 languages.
Scale functionality with the hooks and filters
Being customizable opens endless opportunities for the users in creating a brand-specific website. The premium version allows the user to discover the depths of the theme. The numbers are proof of the theme being the fastest WordPress theme.
Page speed: 99%
YSlow score: 94% A
Fully loaded webpage time: 1.1 seconds
Pingdom Load Time: 890ms
HTTP Requests: 10
Exceptionally low file size has aided GeneratePress to speak for itself in the tests. Low requests and bare minimum total page size have led to close to perfect scores.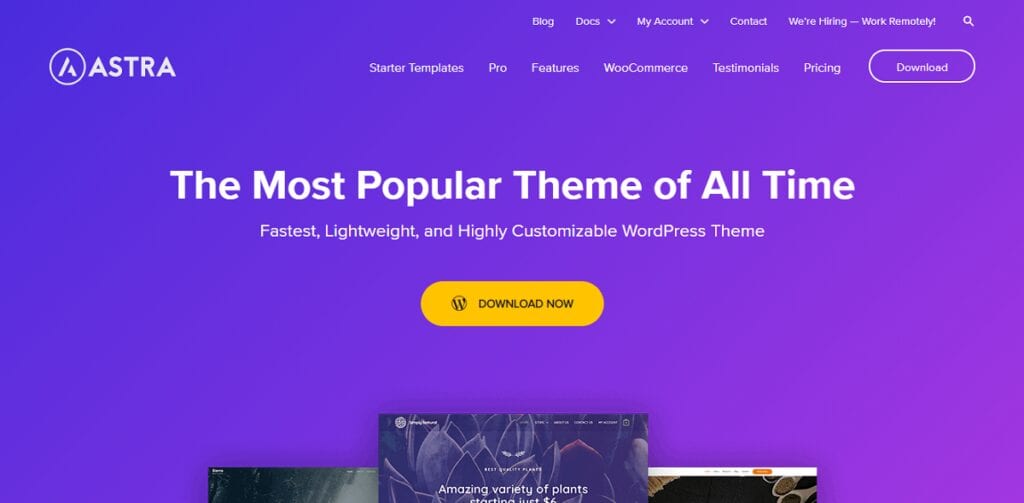 With more than 700,000 users, there is no doubt that Astra is the most desired WordPress theme. The lightweight build makes it easy to load fast. When paired with premium benefits, Astra offers a highly customizable platform for the user.
The library of starter templates comes in handy to start a website in no time. The pre-made sites are perfect for various blog topics such as fashion, lifestyle, food, travel, fitness, religion, and more.
Astra is one of a kind with the expandable functionality of premium features. The premium benefits of Astra are as follows
Multiple sites and layout choices for a blog
Precise color control
A variety of typography options
Support for WooCommerce integration
You can easily integrate the site with third-party plugins such as Woocommerce, LeranDash, and Yoast. Astra claims that they are made for speed and, this reflects in the metrics.
PageSpeed Score: 99%
YSlow score: 92% A
Fully Loaded Time: 0.9s
Pingdom load time: 412ms
HTTP Requests: 10
Identical to the first theme, Astra has bagged near to perfect scores. With no junk lining the code, the requests are also minimum. Astra is the perfect blend of small size, customizable platform, and pre-build sites opening the gates of unlimited possibilities.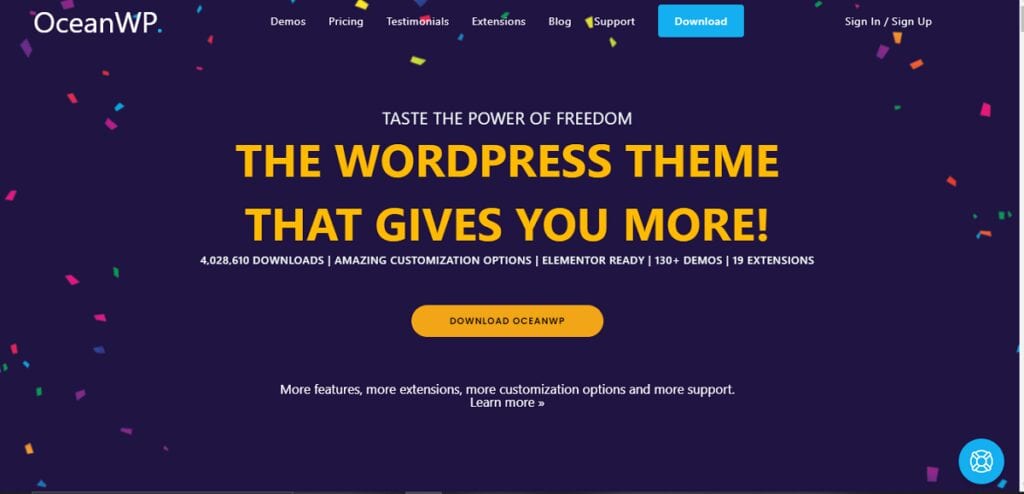 OceanWP is on track with about 4,028,096 downloads. OceanWP has a 100 percent free theme never leaves out anyone. You can easily import any demo site with one click and give your site "the look" you want in a jiffy.
The theme is known for its user-friendly interface, which makes it perfect for non-technical users as well. OceanWP comes with a handy extension to boost site functionality and is also compatible with other page builders.
Fully responsive design
Ecommerce ready
In-built SEO function for indexing and ranking
Inbuilt translation and RTL
Comprises advanced mega menu
Plays well with page builders like King Composer, Elementor, and Beaver Builder.
OceanWP is not a phenomenal performer like the predecessors but, it attracts people with decent performance.
PageSpeed Score: 98%
YSlow score: 85% B
Fully Loaded Time: 1.9s
Pingdom Load Time: 564ms
HTTP Requests: 29
Schema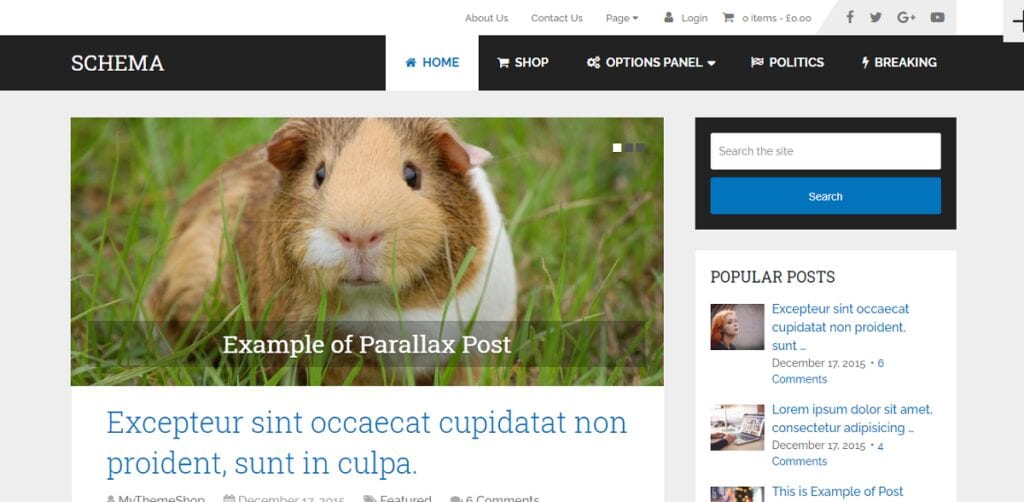 Schema from MyThemeShop is everything you need including, fast load speed, in-built SEO, and an arsenal of best features. Schema, other than quick load time, is also known for responsive design and customizable platforms. It looks splendid on any small screen.
The fluff-free and professional design invites a few HTTP requests and shuts loading JavaScript. If you are looking to create a hassle-free blog, Schema is the one for you. The in-built review support allows the reader to review your post. The industry-leading, MyThemeShop's panel allows jiffy customization.
Fully responsive to all screen sizes
In-built ad management panel to manage your website
Inclusive by being translation-ready
Choose from a variety of Google fonts
You needn't install extra plugins with a built-in related post feature.
Offers rich snippet support
Perfect integration with Elementor page
Rank higher with in-built SEO tricks
Coming to speed, Schema stages up to par performance.
YSlow score: 95% A
Pingdom Load Time: 472ms
HTTP Requests: 38
Neve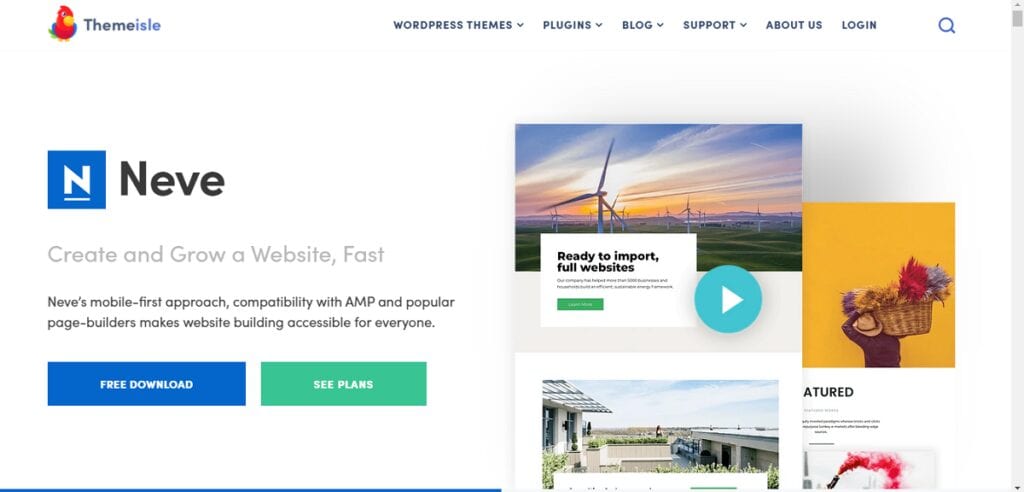 Neve from Themeisle is a modern, responsive, ultra-fast, and brilliant WordPress theme. Neve is a no-doubt choice for every website, be it big or small. With one-click import templates, you can explore Elementor's flexibility. Neve comes with a mobile-first design and propels your SEO a bit. Once you have downloaded one of the pre-made templates, you need not worry about the code and delve into customizing the site. Enjoy the real-time changes as you edit. Being compatible with popular page builders adds a point to the theme.
Mobile-focused theme
Supports popular page builders
Works well with AMP to generate user-first interface
Customize header and footer
Treasures a library of custom-made demo in different categories like eCommerce, minimal, blog, entertainment, travel, and more.
WooCommerce booster adds elements such as advanced galleries, checkout modules, and billing details.
Blog booster enhances the nuances of the site with thumbnails, layouts, and metadata.
Neve is a golden theme to watch out for if your focus is on improving mobile speed. It doesn't invite many requests and has a desirably low file size.
PageSpeed Score: 99%
YSlow score: 93% A
Fully Loaded Time: 0.9
Pingdom load time: 482ms
HTTP requests: 11
As you can see, Neve displays near to perfect scores and has secured its place on the top pages. On the whole, Neve is an ideal choice if you're hunting for a flexible and beginner-friendly website.
Zakra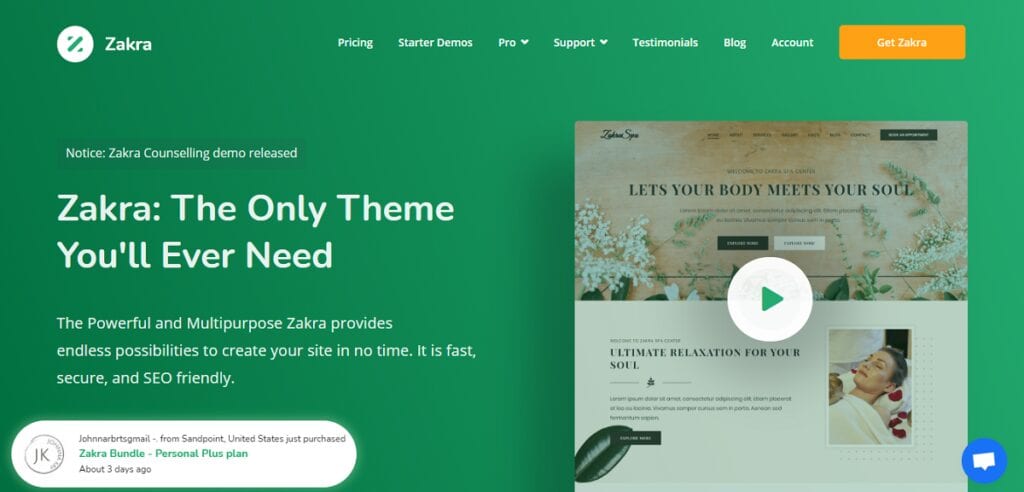 Zakra from ThemeGrill is a multipurpose WordPress theme with endless potential and a brisk interface. Zakra is the perfect option for online store sites. The makers have optimized the theme for speed thus, thrusting your conversion chances. Responsive design makes the site beautiful on any device of any size.
The free theme packs some serious features but to experience the power of customization, you should go for a paid version. The premium version offers advanced headers, WooCommerce add-ons, and blogging features. It has gained its name for being well-documented and providing several demos.
Fast and reliable base to construct sleek themes
A library of demos with different categories
Compatible with a few page builders including Gutenberg
SEO friendly
Unique header module due to availability of diverse header bars, transparent headers, and buttons.
You need not follow the standard WordPress menu settings while editing the menu
Integrated WooCommerce plugin
Typography treasure
Flexible sidebars
Zakra is a simple and sound theme and exhibits on par performance on mobile. Speed test scores too, agree with the fact:
PageSpeed Score: 99%
YSlow score: 87% B
Fully Loaded Time: 0.6s
Pingdom Load time: 417ms
HTTP requests: 16
Zakra fits itself below phenomenal performers like GeneratePress and Astra with its good scores.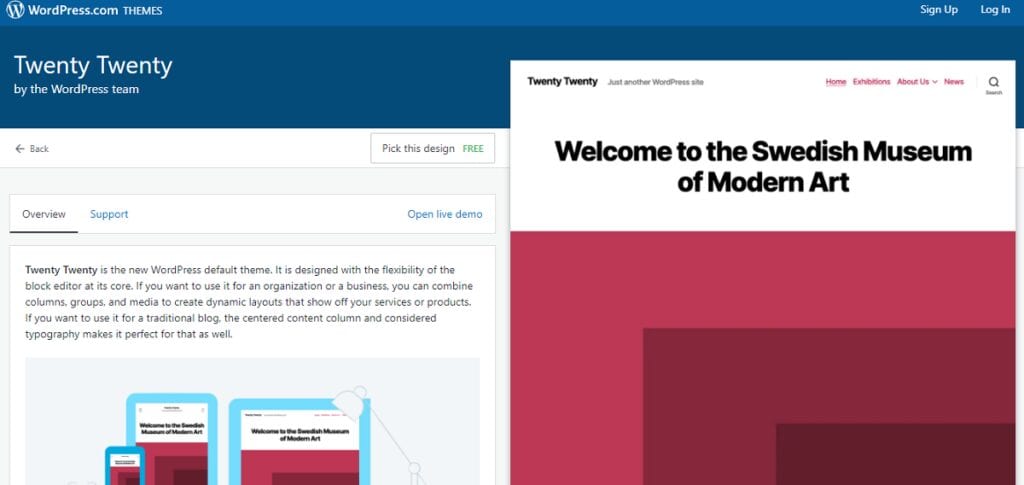 The latest Twenty Twenty theme also deserves a place on this list of lightweight themes. Twenty Twenty, in addition to being 100% Gutenberg ready boasts outstanding performance metrics. The theme takes full advantage of the Gutenberg editor.
With Twenty Twenty you can create beautiful and dynamic landing pages composed of group and column blocks. It is an ambient option for those looking for a minimalistic site for professional or personal use. You can pair it with builders like Gutenberg or Elementor and explore the features of customization.
Low file size and requests to achieve 100 percent score
Default theme for current WordPress version hence considered in perfect sync
Access unique tools such as editor styles, fonts, colors, and infinite scrolling.
Primary block support for Gutenberg but also offers support for page builders like Elementor and Beaver Builder.
Mobile-ready designs and adaptive to various screen sizes
Access to a wide array of typographies
Though it is not the fastest theme in the world, it is surely lightweight to meet current requirements.
PageSpeed Score: 98%
YSlow score: 95% A
Fully Loaded Time: 1.4s
Pingdom Load Time: 368ms
Requests: 10
Twenty Twenty is not the go-to choice for many developers, but, it maintains a reputation as the Stock theme for WordPress. Thus developers put effort into this gem and also, some go for the free theme.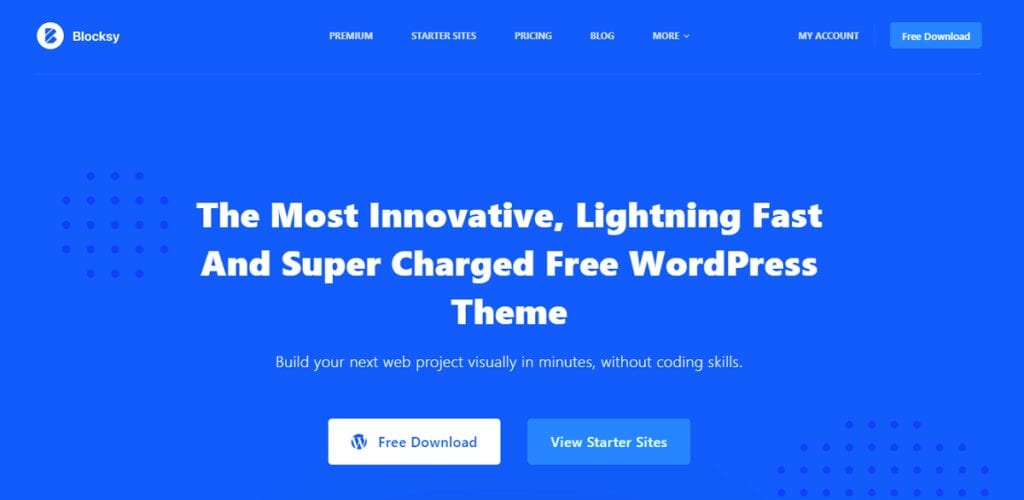 Known for its minimalistic design, Blocksy is a free WordPress theme with super-charged speed. Blocksy is a light and lightning fast theme and is almost everything a developer wants. With this multipurpose theme, you can easily design the pages using the drag-and-drop functionality.
The theme is compatible with popular page builders like Elementor. It has a clean codebase along with ample features like code splitting to boost speed.
100% compatible with Gutenberg page builder, also supports popular builders like Elementor and Beaver builder
Build pages quickly using editor and blocks
Code splitting to support dynamic support
eCommerce ready to build online stores
The site is translation ready for translation into any language
Fully mobile responsive
The theme has taken the WordPress world by storm with a versatile header builder, group layouts, and customizability.
Page speed score: 98%
YSlow score: 86% B
Pingdom Load Time: 1.27 seconds
HTTP Requests: 25
In terms of speed, Blocksy puts up a decent fight with a 98% overall score. In terms of customization experience, the theme works exceptionally.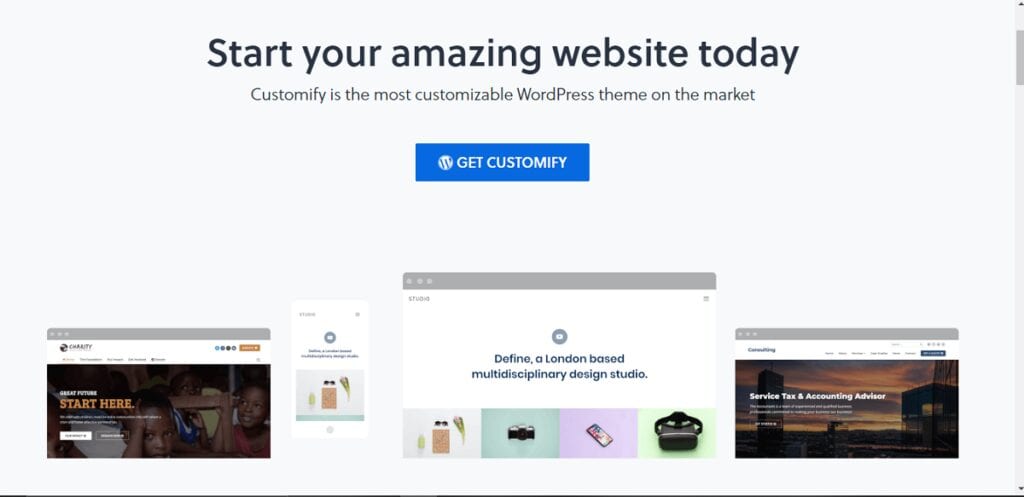 As the name says it all, Customify focuses on customization. You can change every part of the website as per your wish. In addition to excellent customization features, Customify has high-speed performance. You can start straight away to build your site with one of the many pre-made sites or demos available with the theme. It is lightweight, fast, SEO friendly, and highly responsive.
Multipurpose theme with high flexibility to change into any type of website
Supports integration with popular page builders like Beaver Builder and Elementor
Offers integration with must-have Plugins like such as OrbitFox, Yoast, BuddyPress, and bbPress.
Comes with additional elements for smooth WooCommerce integration.
Limit-less header and footer
Access custom menus, versatile headers, and adjustable columns.
Versatile headers for mobiles
A developer-friendly theme
Customify is a tough theme to fight with good scores
PageSpeed Score: 98%
YSlow score: 90% A
Fully Loaded Time: 1.6s
Pingdom Load Time: 543ms
Requests: 19
The scores here speak for the theme and emphasize that Customify is a powerhouse theme.
Hello Elementor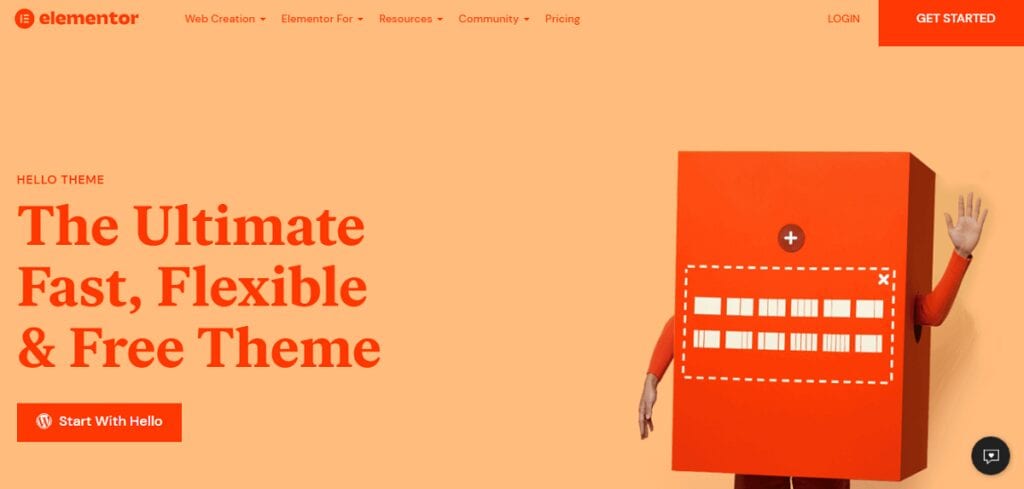 If you love Elementor builder, this fast theme is the one for you. The drag and drop filter has led to the popularity of Hello Elementor. With a clean-code base, Hello Elementor is a versatile theme for users. This lightweight, white theme works well with Elementor and supports plugins such as WooCommerce, Advanced Custom Fields, etc.
Works with an easy-to-use page builder
Simple and minimalistic design without extra load
Responsive design
Support to develop multi-lingual sites
Hello Elementor works wonders in terms of speed
PageSpeed Score: 99%
YSlow score: 96% A
Fully Loaded Time: 1.2s
Pingdom load time: 385ms
Requests: 8
Bottom line
A WordPress lightweight theme enables you to attain the speed the search engine requires and thus increases the chance of ranking on SERP. Also, with a lightweight theme, you can influence the traffic and the conversion of your visitors. So, if you choose any of the lightweight WordPress themes, you should do great with page load time.
Along with the fast theme, you also need a fast and reliable WordPress hosting provider. That's where we come in. Check out our Managed Hosting Plans to get started!
Posted by in
Blog
on August 3, 2021 |