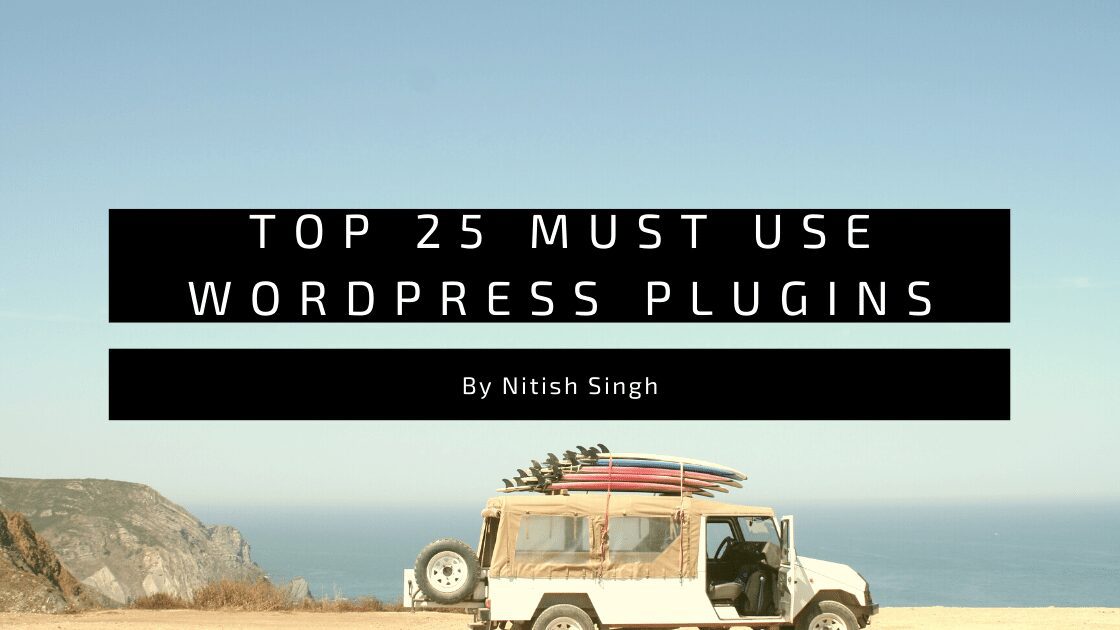 Did you know that WordPress powers around 39.6% of sites on the internet in 2021? When you focus on WordPress as a content management system, the number is somewhere around 64.1%.
The numbers are pretty mind-boggling, right? What is the reason for such massive worldwide popularity of WordPress? There are tons of answers to the question, but the most important is WordPress has tens and thousands of plugins to choose from.
The diverse plugin ecosystem doesn't have just something but has the best for every function. The plugins lay the ground for better content, effective marketing, and smooth performance.
But with more than 58000 plugins, it can be daunting to choose what your site needs. If you are confused, this post is to your rescue.
We have handpicked the top 25 WordPress plugins across different categories like SEO, security, marketing, backup, and performance that will make your site a player on the internet.
Top 25 Must Use WordPress Plugins

With more than 5 million downloads, Yoast SEO is a WordPress plugin that even a newbie would know.
Yoast SEO has it all for SEO like an easy-to-use interface, simple SEO recommendations, and red, orange, and green traffic lights. Using this plugin, you can optimize your title tag and Meta descriptions.
Yoast SEO does a great job in creating XML sitemaps and analyzes content's readability. The plugin also recommends a list of target keywords, minimizing your workload. If you are starting your site today, YoastSEO is the ideal choice without second thoughts.

Active in about five million sites, Akismet is the handiest plugin on the list. It performs the simplest function with top-notch efficacy. Akismet keeps the spam comments at bay. You can filter the unwanted comments that don't have anything to do with your content.
The best part is you don't have to do anything other than installing the free plugin on your site. The plugin will do its work at best on autopilot.

Elementor is a top position holder in the diverse WordPress plugin ecosystem. The premium version offers efficient page-building functions like customizing the entire layout. If you Website designing novice and don't know anything about coding, don't fret, Elementor will make your work easy.
The drag and drop function offers a high degree of flexibility to the design page of your choice. The wide array of modules called widgets also helps in customizing your content. Opt for a premium version and explore the depth of creativity.

Actively used in more than 5 million sites, the WooCommerce plugin doesn't require any introduction. WooCommerce is the de facto eCommerce plugin for WordPress. This plugin packs powerful features that an online store needs. With the growing popularity of this plugin, it is no wonder it has dedicated hosting, themes, and plugins.
Without much hassle, accept payments online via multiple payment gateways like PayPal, Stripe, etc. The user-friendly interface gains brownie points as it lets you focus on the products instead of technicality.

Among 200 website ranking factors described by Google, page speed is highly crucial. WP Rocket's function is to boost your page speed and make it rank-worthy.
WP Rocket in addition to boosting load speed, boosts page performance with functions like deferred image loading, code minification, CDN support, database optimization, etc.
This paid plugin is a golden standard for caching WordPress sites. The best part is, WP rocket doesn't await your request to build a website cache.

In the course of using a site, you might want to alter the URL of the page. With this plugin, you can build 301 Redirects from URL A to URL B.
When you delete a content piece, you should create a 301 redirect and report it to the search engine for traffic redirection. Redirection plugins do this for you. Using this plugin, you can create various redirect types, handle 404 errors, import and export redirects, and more.

Website security is complete with an efficient backup solution. With UpdraftPlus, you can do it right without any strings attached. UpdraftPlus is all about simple backup and equally simple restoration.
You can safely store the backup in a remote place like Google Drive, Dropbox, or Amazon S3. Turn on the automatic backup feature, set the interval, and sleep peacefully at night.

You have optimized your site and social media for the search engine but, how to check its effectiveness? This is where the MonsterInsights come into play. You can connect your site to a Google Analytics account and view analytics data without exiting the WP dashboard.
The stats help you track the actions of the visitor. Using the insights from the plugin, you can optimize your site accordingly and drive traffic.

Broken links on your site may cost you a business opportunity. If you don't want your potential customer to choose the competitor's site, then it is time for you to identify the broken links and fix them.
The Broken link checker can catch hold of the broken links by scanning your internal and external links. You may think that you can check the links manually but it is not practically possible as your site ages.

HTTP/SSL certificate is not only safe for you but is also safe for the visitor. With the SSL certificate, you can pass the not secure warning from Google.
The SSL certificate won't cost you a dime; all you have to do is find a safe way to migrate your site to HTTP. Really simple SSL will do it for you. From redirect set-up to old URL update, it manages everything required for safe migration.

Being popular also attracts a lot of problems. The same goes for WordPress. As one of the most popular website content management solutions, it is often the target for hackers.
Wordfence comes to the rescue of your WordPress site as the best security plugin. On installations, it works on autopilot and installs firewall, performs malware scans, and hardens login.

Creating a table using HTML code is tough, and, sometimes you may get lost in the ocean of tags. But with TablePress, you can create complex tables in no time.
What is so great?
You need not get deep into the code but simply fill the table with your elements like you would in an excel sheet. You can even import data from excel and save some precious minutes.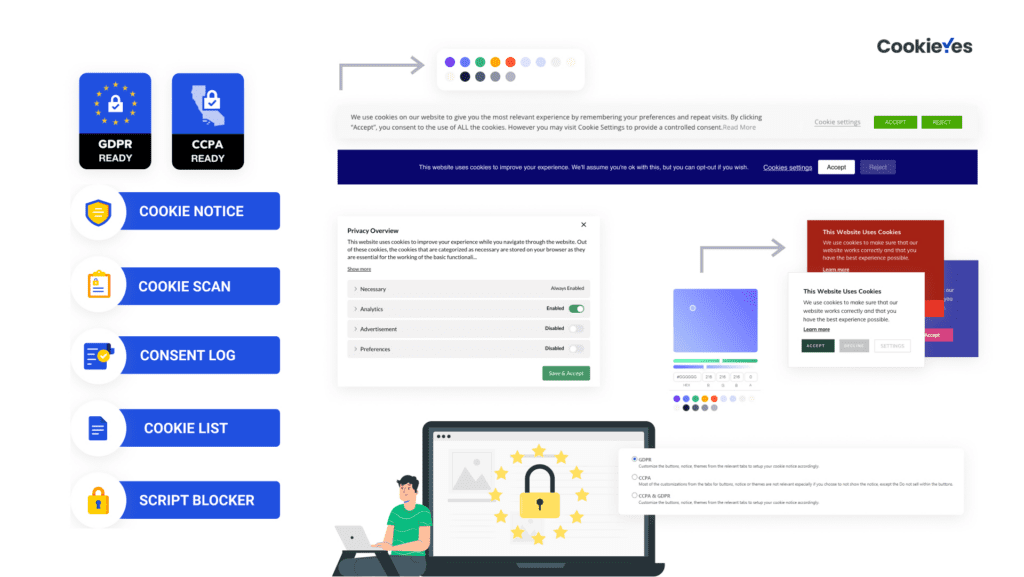 Are you unsure where to start when it comes to GDPR compliance of your WordPress website? Then installing this GDPR cookie consent plugin would definitely put you in the right direction. 
With this plugin's inbuilt cookie scanner you can list all the cookies that are present on your website. With the data available from the scan, you can create a cookie banner and provide your users with granular control over cookies.
Auto-cookie blocking, privacy policy generator, etc., are additional features available within the basic version of this cookie compliance plugin. With its pro version, you can avail of advanced features including Geo IP-based cookie notice, cookie consent log, etc.

SeedProd is another drag and drop page builder in the list. It allows you to build aesthetic sites without having to worry about the code. SeedProd is a business owner's princess as it allows them to create custom landing pages in an instant without the help of a developer.
You can also choose from hundreds of beautiful templates and put together a decent site. The templates include various categories such as landing pages, sales pages, thank you pages, webinar registration pages, coming soon pages, 404 pages, etc.

Forms help in engaging with potential customers and readers directly. With WPForms, you can create aesthetically appealing forms for your WordPress site. You can create different types of forms like contact forms, email subscriptions, payment forms, and online order forms.
In addition to building forms, this plugin also packs powerful features like user journey tracking, form abandonment, geolocation tracking, and so on.

Optimole is all that you need to optimize your images on your website. Image optimization plays a crucial role in boosting the load speed of your site. So what is the role of Optimole here?
It takes a look at images in your site, optimizes it, makes the image take up less space without compromise on quality, and finally serves the image through CDN. You can ultimately enjoy a faster loading page on fewer resources.

MemberPress is a membership plugin for WordPress that allows you to create online courses, membership sites, and communities. You can control content access based on the subscription plans you have designed.
The plugin works well with Woocommerce and also various payment solutions and allows you to accept online payments. The plugin also comprises powerful features like drip content, course management (LMS), group memberships, automation features, and more.

As the name says it all, Duplicator allows you to clone your site on another server. This plugin comes in handy when migrating your website to another host, creating staging sites, etc.
You can copy the content of your site using a duplicator and copy it to the desired location. Save invaluable minutes with the automated migration process. The best part is Duplicator works every time irrespective of site size.

Regenerate thumbnail is a simple plugin that performs a simple function. It ensures that all images on your current theme have the same image size.
When you go for a new theme, this theme automatically regenerates the thumbnails to look perfect.

Mailchimp is the ideal email marketing tool for beginners. With 2+ million active installations, it's no doubt that Mailchimp is all you want for email marketing.
To engage your subscribers with your stories, you need their mail Id and, this is MC4WP get into action. The plugin will provide you full control over your email campaign.
You can build the first customer email list, manage the types of emails, and send targeted emails. Add-ons of MC4WP allow you to integrate with other plugins like Gravity Forms, WooCommerce, Contact Form 7, etc.

How would you feel when someone shares your content? Over the moon, right? When people love your content, they share it. When many share your content, engagement will increase and eventually boost traffic. The question here is how will readers share your content?
If it is to one person, copying the link and sharing makes sense. But what if they have to share the content with hundreds of friends. Socially Sassy share plugins add social media icons to your site and allow the readers to share the content on social media.

Email marketing can be the next step of engagement with your visitors who visit your website. The option forms work dedicatedly to obtain the mail ID and information of the visitor. The goal is to show pop-up forms to casual visitors and make them go for it.
With a few clicks, you can create beautiful and simple forms on your site. If you don't have the time to make a form from scratch, access the pre-made templates and customize them according to your requirements.
The admin columns in the menu display a list of information about the content on your blog or page. In some cases, the information may not be relevant to the user. What if you could customize it without getting into the nasty part of code? That sounds perfect, right? With the Admin column, you can customize the custom columns and make them more useful.

Being a new member in the SEO field, Rank math has reserved its place rather quickly. Rank Math has an interface resembling a game to optimize your content. The post gets a rank from 0 to 100 based on the level of optimization.
Rank Math also comes with inbuilt SEO modules which you can turn on or off based on the SEO needs. Using this plugin, you can also integrate with search consoles, WooCommerce SEO, image SEO, and so on.

To boost your website traffic instantly, Rafflepress is your queue. As one of the best giveaway plugins, you can scale social media followers, get more email subscribers, and increase website traffic via contests and giveaways. Rafflepress's drag and drop builder allows you to create fun contests to grab visitor's attention.
Bottom line
As you are at the end of the list, you are officially ready to upgrade your website to the next level.
You can convert your website from boring to booming with the essential plugins.
You do not need all the websites that are listed here. In fact, you should be choosy about what you want to install. WordPress performance is critical and adding any extra plugin that you do not need.
However, a good hosting provider can handle a good amount of plugins. Vebsiko® Hosting offers managed WordPress hosting that takes care of speed, security, and scale.
Posted by in
Blog
on August 3, 2021 |