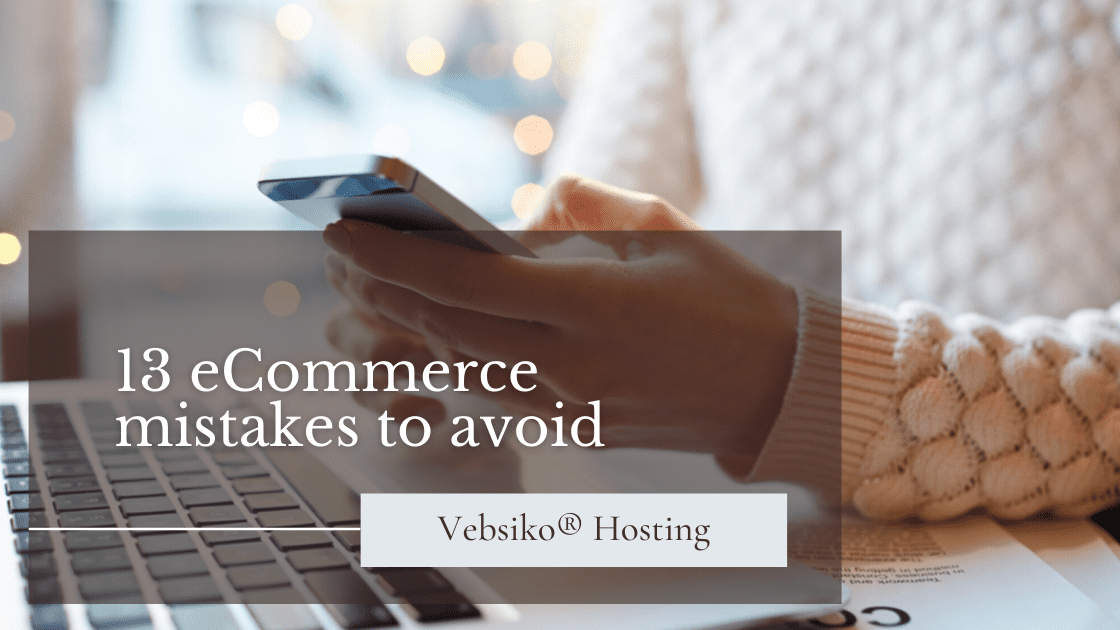 The eCommerce market is burgeoning at a rapid rate and, jumping into it will pay off if done the right way. The data analysts have predicted that the eCommerce market will shoot up to become a $5.4 trillion industry by the end of 2022. With people shifting to buying things online, many merchants have opened online stores and put more effort into brick and mortar stores.
The ultimate aim of eCommerce stores is to make customers shop in comfort. But if something you do jeopardizes the comfort? That's going to affect your customer's shopping experience and, in turn, it is going to affect the sales on the whole.
"To err is human", but when it affects your customer, it is a serious problem to be addressed immediately. To start with, find out the common errors that can happen from your side in terms of your eCommerce site, and from there lay the road to a solution.
Here is a list of mistakes we have curated for you to identify and sky-rocket your e-commerce store.
13 eCommerce mistakes to avoid
Starting an eCommerce business is not an easy feat and, if you ask anyone with a mildly successful online business, they will agree with the fact. Unlike many, eCommerce is not a set-it-and-forget-it program. It requires consistent effort to scale growth backed by the method of trial and error. To help you save from unnecessary cart abandonment, here are some common mistakes you should avoid in the first place.
Lack of proper research
Not Narrowing down your target audience
Selecting a wrong e-Commerce platform
Choosing the wrong web hosting system
Complex website navigation
Lack of secure platform
Ignoring product gallery
Complicated checkout options
Turning a blind eye to website SEO
Incorrect product pricing
Generalized product description
Not building trust
Unorganized webpages
Lack of proper research
The time when things were done only based on instinct is long gone. Today it is about instincts backed by data. Every action that your potential customer will take can be predicted by data. To target your potential customer researching their action is a must. A Ph.D. student does years of research to put together a hypothesis.
Similarly, as a business owner, you must understand what will work and what will not before starting the gears. Research reveals the areas that may go wrong and help you from committing mistakes that might cost you a fortune.
Any business, be it online or offline, shouldn't be started with proper research and, it is a rule that everyone should stick to in order to avoid any misfortune.
Not narrowing down your target audience
Will you sell college books to a toddler or spectacle to people with perfect vision, no, right? No matter how good the quality of the product is or how cheap it is, people won't get a product that makes them annoyed. They would also tell others not to buy them. To have a flourishing eCommerce business, you don't want that. And that is why; you should define your target audience.
Only when you understand who your target audience are, you can understand their problem and offer the right solution. Narrowing down the target audience helps in creating the audience personas that know in-depth about them. The buyer persona will let you understand the following about your potential customers
Demographics
Shopping behavior
Interests
The most loved mode of payment
What they want from an online store
And more
Selecting the wrong eCommerce platform
The platform you choose to run your eCommerce store has the power to make or break your store. The platform you choose determines everything from how you display products and how well your business grows with time.
The last thing that every business owner wants is their website platform limits their growth. You should thoroughly understand what the platform offers and see if it includes the most crucial features to run your business before making the choice.
If you accept a platform and then realize that it doesn't have provision for the features you need the most, migration is going to cost you a lot of money and time. Go for a professional and trusted platform to establish your online store.
Choosing the wrong web hosting system
If you are a customer, would you purchase something from a store that takes ages to load? It is an absolute no, right? Everyone would want to explore the vast store and choose their best pick, and it is possible only if the store loads within milliseconds.
Poor loading time, consistent buffering, and broken web pages will squander all your marketing efforts. The best way to get rid of technical glitches is to hire the best web hosting company.
That's where Vebsiko® Hosting comes in. We utilize high-quality servers that are designed to work with eCommerce needs.
Don't get lured by the cheap prices or vague promises, but take a tour through their portfolio and reviews to see if the hosting provider is perfect for you.
Complex Website navigation
Every eCommerce store should maintain the balance between functionality and design. When the balance goes off the charts, your potential customer will go for the next option. It is great that you want a web store that looks stunning and attracts customers. But in pursuit of perfection in terms of don't leave out comfort.
Your store must be easy for your target audience to navigate through. The use of jargon, small fonts, impractical features, and more will frustrate the potential customer and won't bring them back any sooner.
Make the size of the font legible, and avoid tough to understand words and pages that are not easy to locate. As the business owner, you have to make sure that your customers save a smooth experience in your store.
Weak and insecure pages
When people buy products online, they will first see if your store is trustworthy. To build trust, security is one of the most crucial features. When a customer decides to purchase from your store, they share their data with you, and to protect your customer privacy, it is important to have a secured platform.
You must also invest in implementing security practices to prevent your site from cyber crimes such as financial frauds, phishing scams, and infected links. With some of the following measures, you can ensure the safety of your store and your customer data:
SSL certificate
Installing antivirus
Using HTTPS over HTTP
Securing the payment platform
Ignoring product gallery
Did you know that product photography is one of the most crucial elements to attract and engage customers? Having product images will give a clear idea about your product and it builds trust which will push them to buy the product. Hence don't hold back from including a product gallery for every product. Make sure that the pictures you post and easily available, clear, and precise, and show different dimensions with a complementing background.
Complicated checkout process
Once your potential customer has entered the initial stages of the sales funnel, Hooray! You have bought the ship halfway and now comes the most important part – payment. This is the stage where a lot of customers may choose to abandon the cart and get out of the sales funnel. Plenty of reasons contribute to cart abandonment but a top reason is the complicated checkout process.
When the customer has to think of multiple elements and feels frustrated during the checkout process, they would likely abandon the cart. A straightforward payment process will make both your customer and you happy. Avoid unwanted obstacles like asking to enroll for an email newsletter in the middle of the checkout process. Instead of fancy fonts, use large and legible fonts along with eye-catchy buttons.
Not providing the preferred mode of payment is also a hindrance in the checkout journey which customers appreciate at all. Keep in mind to include the most used payment methods to make your one-time buyer a life-long customer.
Incorrect product pricing
A lot of people have shifted from shopping offline to online for the comfort it offers and also the value eCommerce stores provide. 60% of your customers will choose you over other stores when you offer the best value for the price. And for the same reason, you must quote the ideal price for your products.
Also, here is a tip to decide the price for your products – take a look at the prices your competitors offer. See if your product offers the same or more, in both the cases let your price does not have a huge difference. It will be better if the price is a bit lower than your competitor's.
Generalized product description
You have included product images, but are those enough? The product should be tagged with a well-described and compelling description. The description should be in a way it answers the possible questions from your potential customers. The description should include features, why it is different from other products and why it will be the best buy? Break the description into readable chunks and pair it with eye-catchy images to lure your customers. Instead of including generic make highly-targeted and precise content your best pal.
Not building trust
The eCommerce business is flourishing which means, competition is fierce. The competition prevails in both local and market. Trust is the factor that decides of your business will be thriving or just surviving. Only when you build trust, your customer will believe in you and will buy your products eventually. A business built on trust won't break that easily making you successful among the fierce competition that prevails.
Here are some handiest ways to build trust with your audience
A website that looks and feels good
Use authentic and unique content over duplicate content
Include customer reviews below the products you sell
Include high-quality images for all your products
Stay active on all social media platforms where your audience dwells the most
Interact with your audiences via the social media platform
Do some research on how to build trust among your audience and make a checklist of what you want to do to get your way with the audience and start from there.
Unorganized webpages
Let us assume you are going to shop for some clothes for yourself. Will you enter a shop where the clothes are thrown about and are not in order? Obviously no, right? Even from the outside, you want the shop to look neatly organized and attractive to lure you inside.
The same applies to a virtual shop like your eCommerce store. Often in the urge to provide a lot of content, the website owners make the blunder of throwing various elements on a webpage making it a mess.
With tons of elements strewn all over the page, the visitor will get confused for sure and will end his journey as soon as he enters. Choose a good layout that helps you break down the content and keep the web pages from being a pile of clutter.
Turning a blind eye to website SEO
One of the biggest blunders an eCommerce owner make is thinking that by having a site and hundreds of products, traffic and sales will happen overnight like magic. For every eCommerce store, traffic is more important than sales as it is the key to success. The best way to attain traffic is by shifting your focus on the SEO of your website (on-page). Search engine optimization for an online store is a difficult feat compared to SEO for blogs and, it's because of the endless range of products and multiple web pages. Here are some common SEO mistakes that every eCommerce store owner should avoid.
Not including the keywords used by the searcher in the content and also adapting the titles and subheadings.
Using duplicate content is an offense in SEO. When your site has a lot of duplicate content, the page will not be indexed by the search engine.
Not focusing on the usability of the site.
E-Commerce is not a trend that is going to fade away soon as it is here to stay. When you kick-start your online store, focus on enhancing the nitty-gritty of the site and marketing to survive the tough competition. This is a random list focusing on the most common mistakes made often by owners. Open your eyes for other mistakes that may happen and be prepared.