Account Signup Process
Users can signup & subscribe for an account by selecting any plan which best suited to their website & hosting requirements.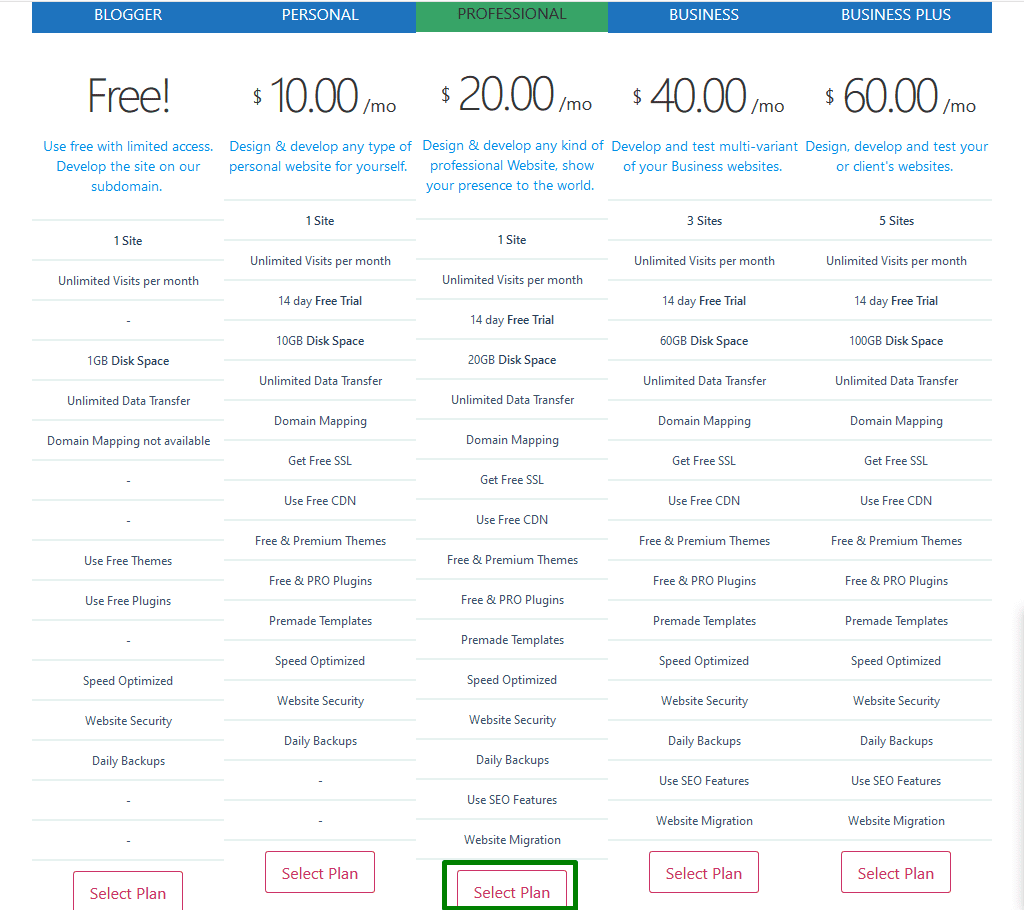 Template Selection
During signup flow, need to select any template which best suited to the business or web design requirements. And also it's required to select a template to move forward to the next step. Templates are the combinations of activated themes & required plugin which can be changed later on any point. Users are allowed to change templates, select & activate any themes, activate and use any plugins & features.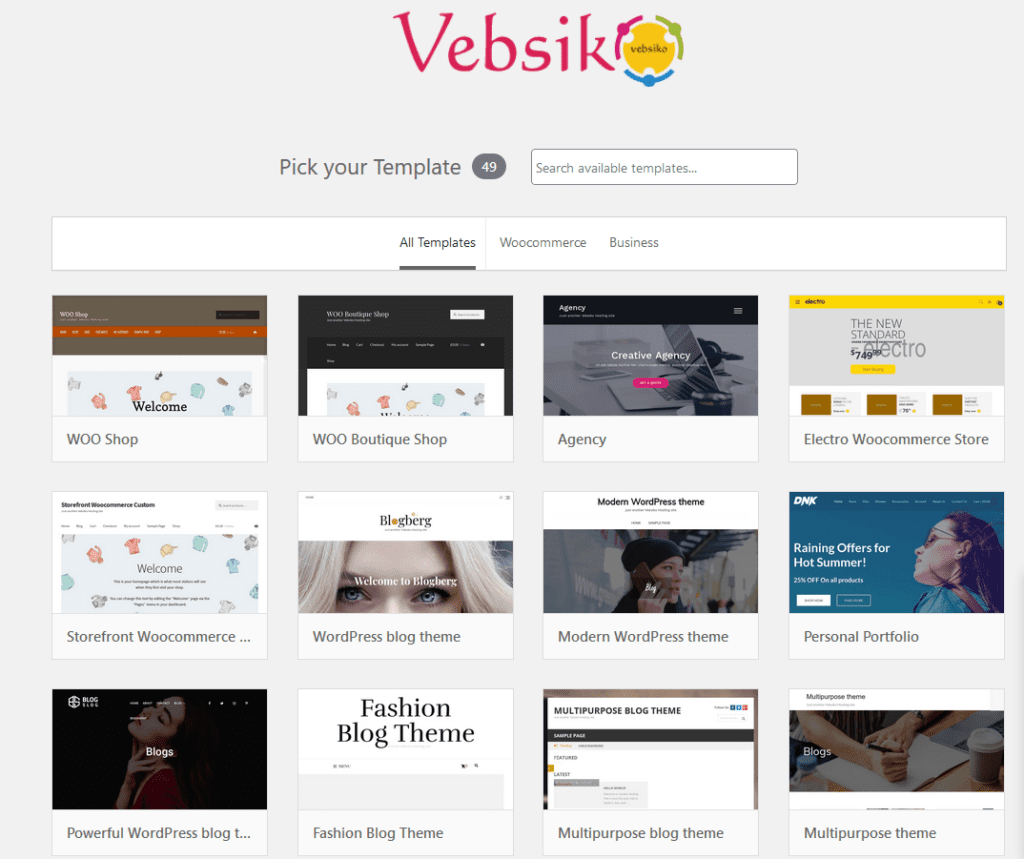 Website details
Enter the details of the website as your business name or some unique name which best matches your website name or any name which represents your work or profession or as you like. It will be your unique URL at Network as a subdomain where you will develop, Create & design your Website. At any point later, you are able to use your own Domain, custom URL which will be mapped to the subdomain. After entering just click to "continue to the next step".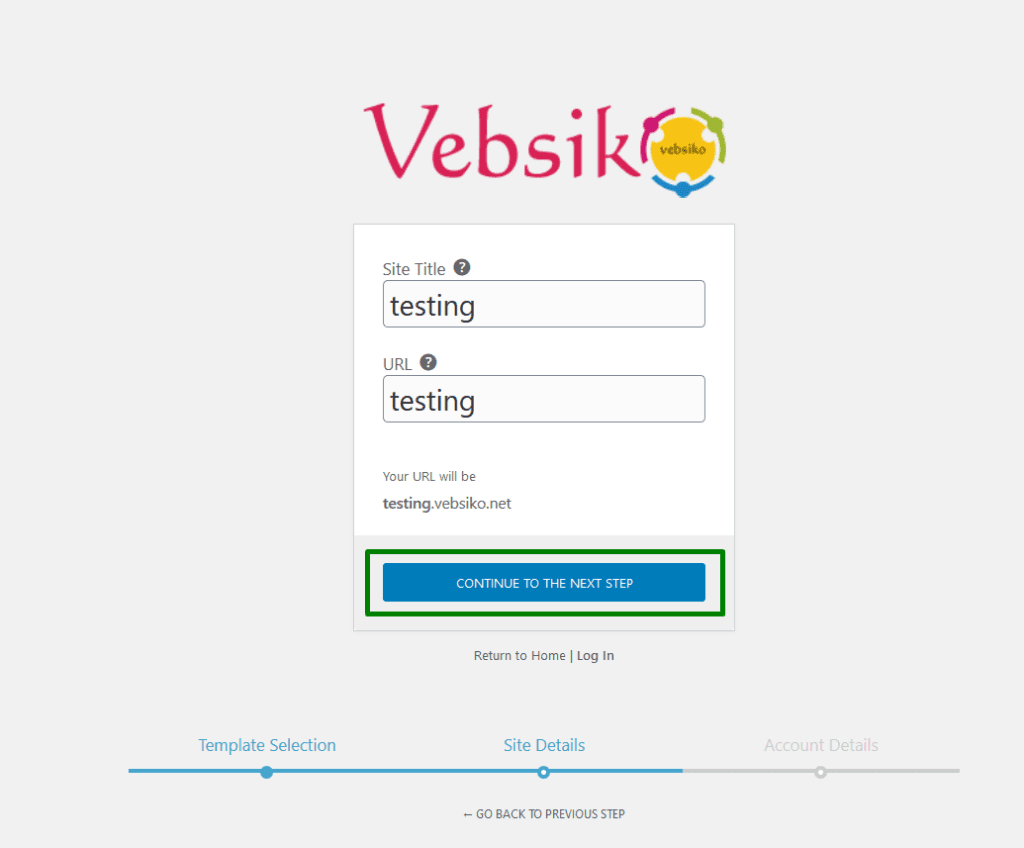 Account details
Fill in the required inputs like username, your email id, password & confirm password then click the "Create Account" button to create your account and redirect to your account.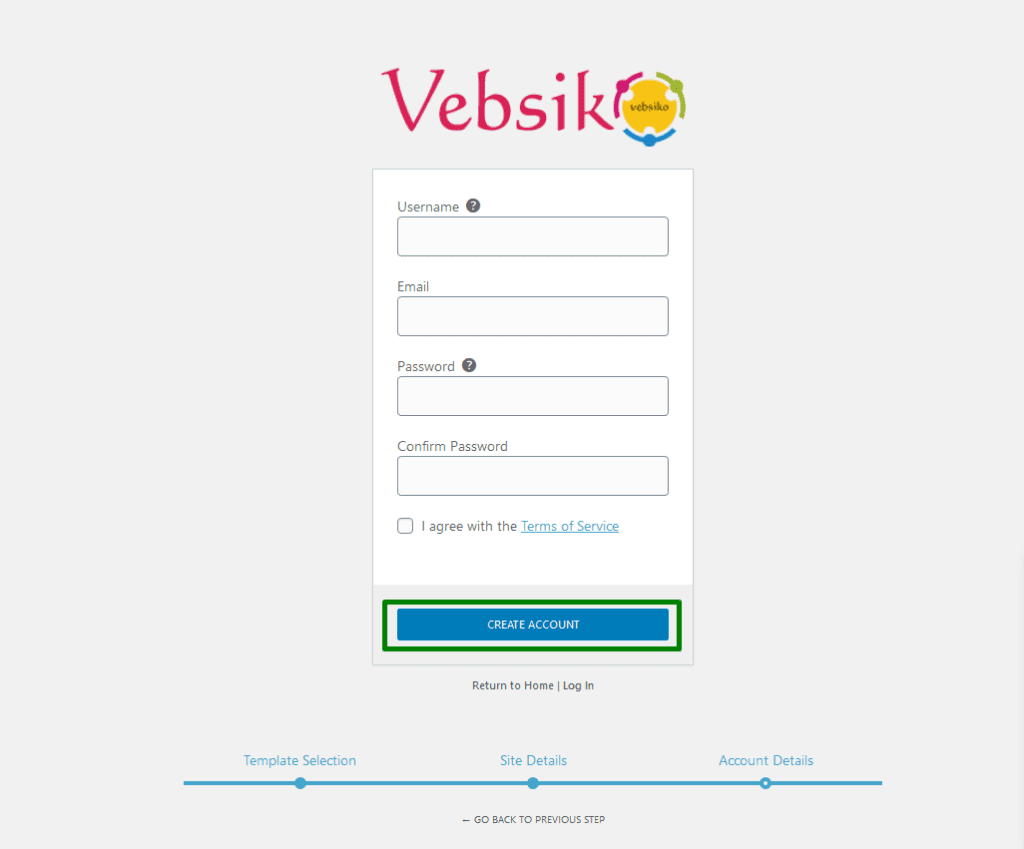 Dashboard Overview
After account setup completion as above mentioned, the system will redirect you to your created website dashboard, which will look like as below image.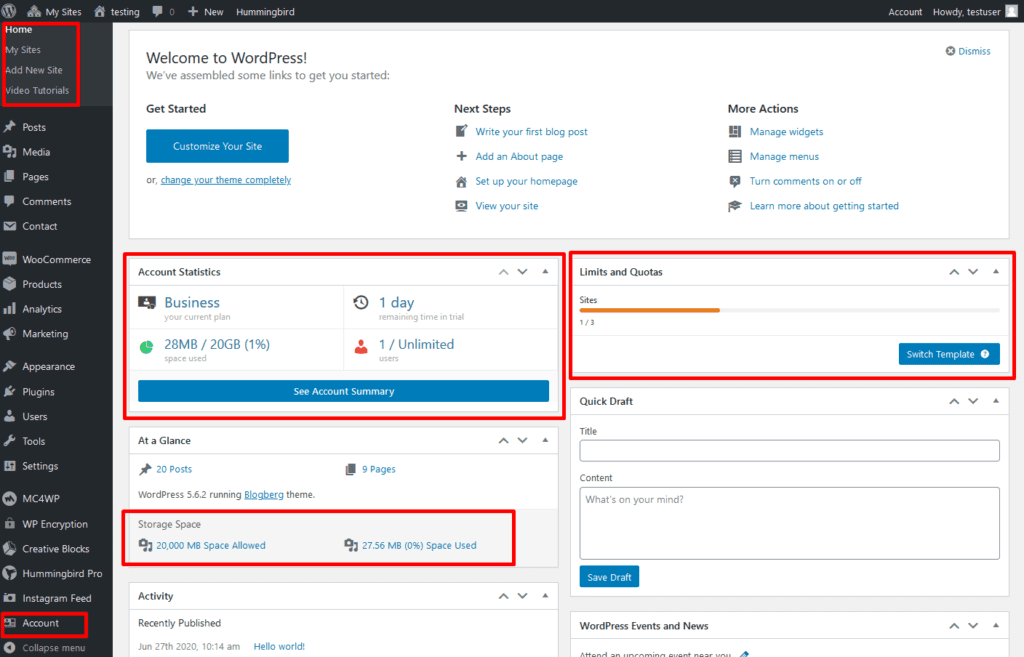 My Sites: You can see info about your websites.
Add New Site: You can add more websites as per your plan.
Video Tutorials: You can watch WordPress videos and learn how to do design Websites.
Account: Inside the Account page you can see info about your account, which described below.
Others overview: Middle of the dashboard you can have a quick look of account like "Account statistics, Limit & Quotas, Storage Info" or you can start customization of your website.
Account Overview
Under your "Account" page you can change your subscription plan, map your own custom Domain name, add a Payment method and add more websites.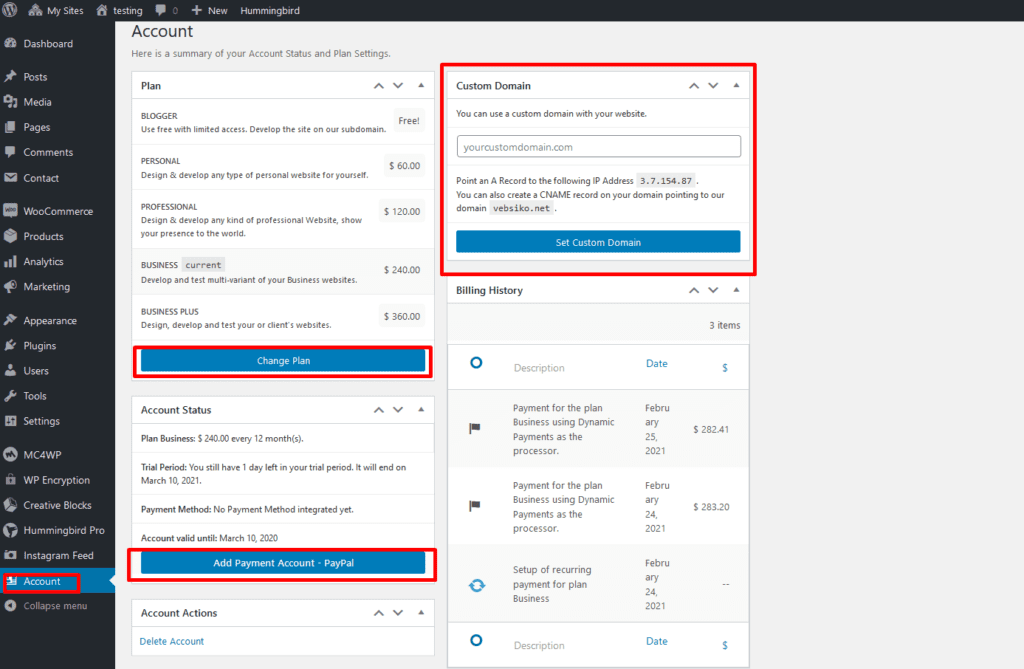 Troubleshooting Login
If you are facing any issue in log in to the subdomain URL (Ex: testing.vebsiko.net/wp-admin/) which you created during signup flow, so just try to log in at the home page Login. After login, you will redirect to the dashboard.

Reset Password
If you are unable to login to the website or forget the password then you can easily reset your password from the "Login" page. Click on "Lost your password" at the bottom then it will ask you to enter your registered "Username or Email id" then click on "Get new Password" to get the new password. An email with instructions will be sent to you. Then after you can log in with a new password but, changing your password from the Profile page is highly recommended.
Change Subscription Plan
Step 1: Visit your "Account" page section on the website. Then click on the "Change Plan" button as mentioned below the image.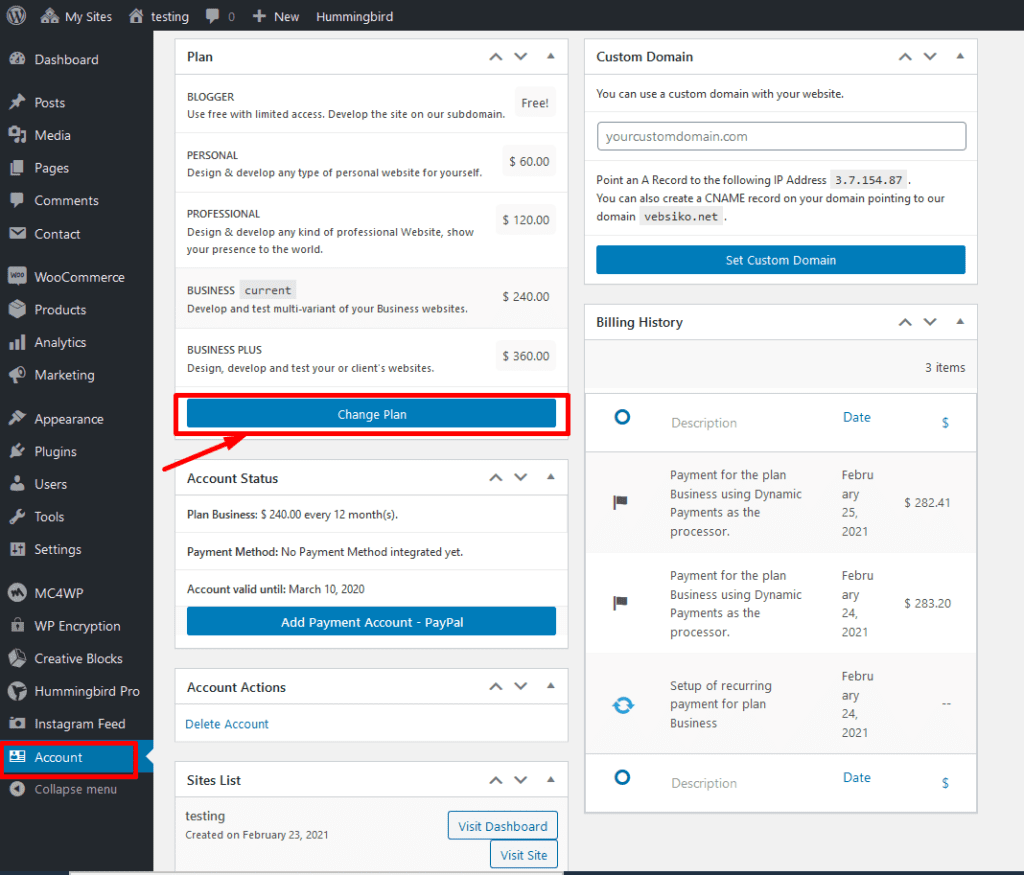 Step 2: After clicking change plan, all available plans will show to select by which you can upgrade or degrade your subscription at any time.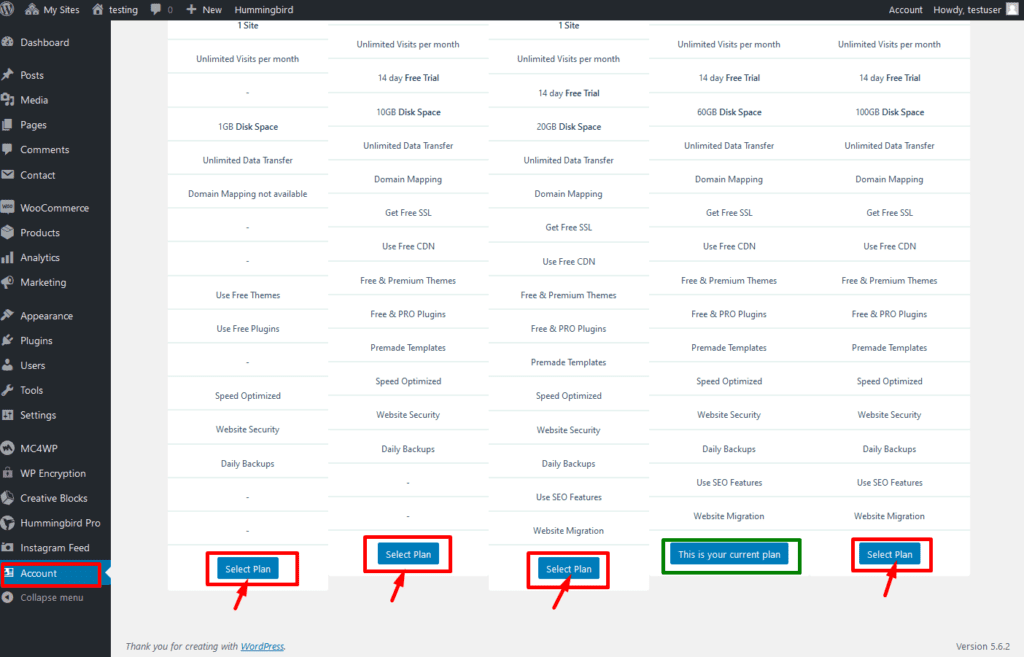 Step 3: After plan selection, you will get option to confirm to change your plan. So for changing the subscription plan, please click to confirm.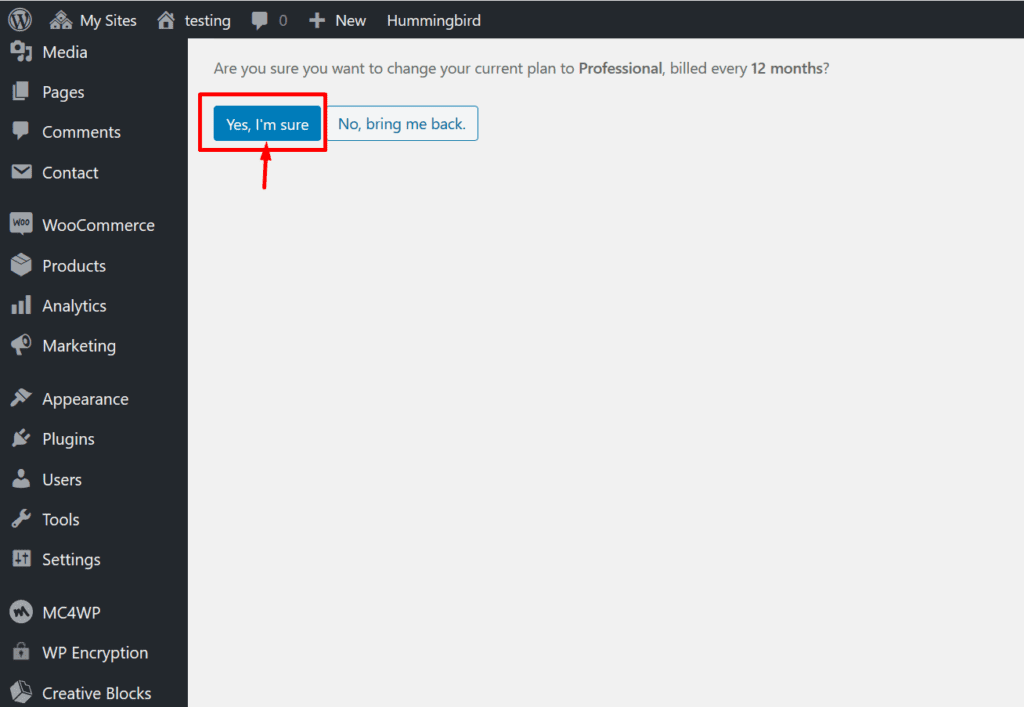 Adding Payment Method
As mentioned in the below image, visit your "Account" page at website. Under account status, click on "Add Payment Account" which options available on the page. After clicking system will redirect you to payment gateways website to process the payment. Once paid at payment gateways your account status will be "Paid".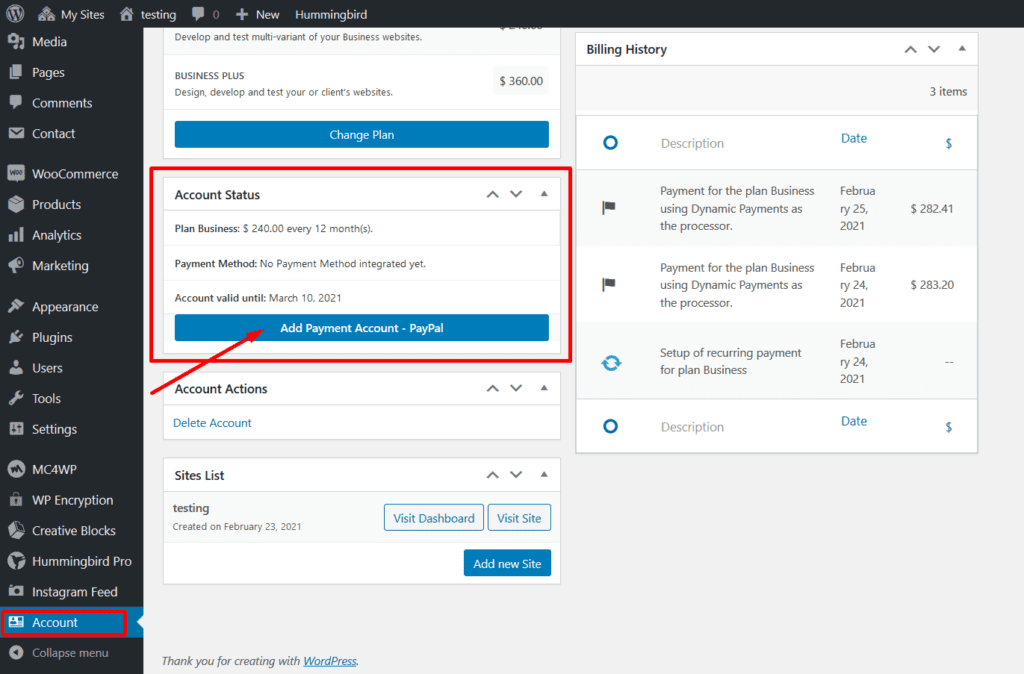 Add New Website
If your plan allows adding more websites then you are able to add new websites from two options.
Option 1: From the left side panel, visit "My Sites" under the dashboard. Then click on "Add New" or directly click on the "Add New Site" option from the left side panel then follow the process flow by selecting a template for a new website or you have options to use your first website as a template, so select any and again follow the next process flow.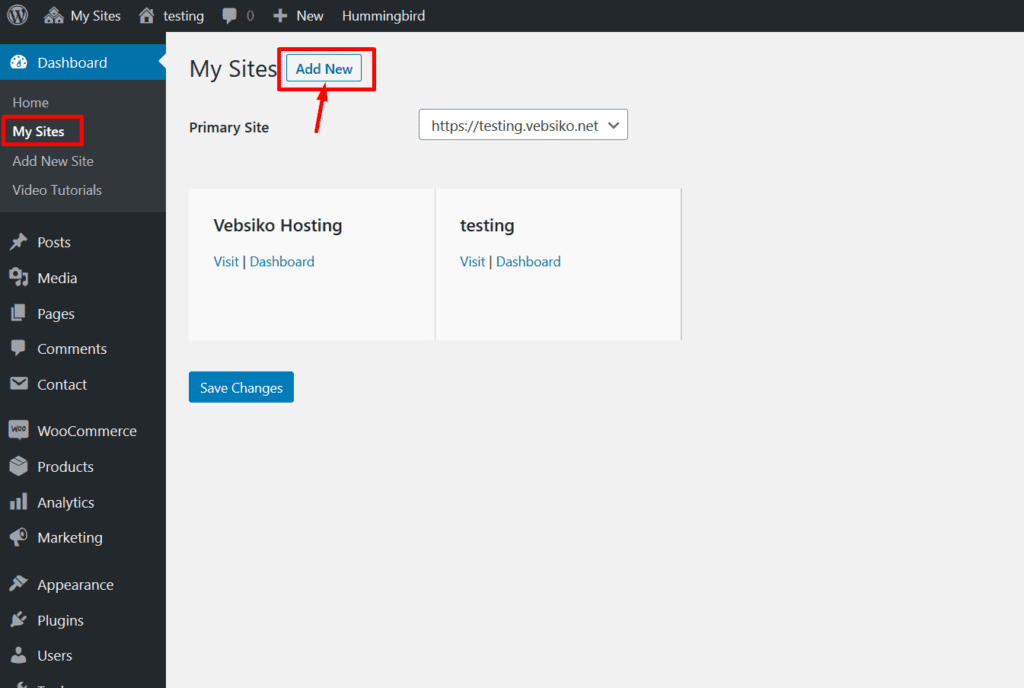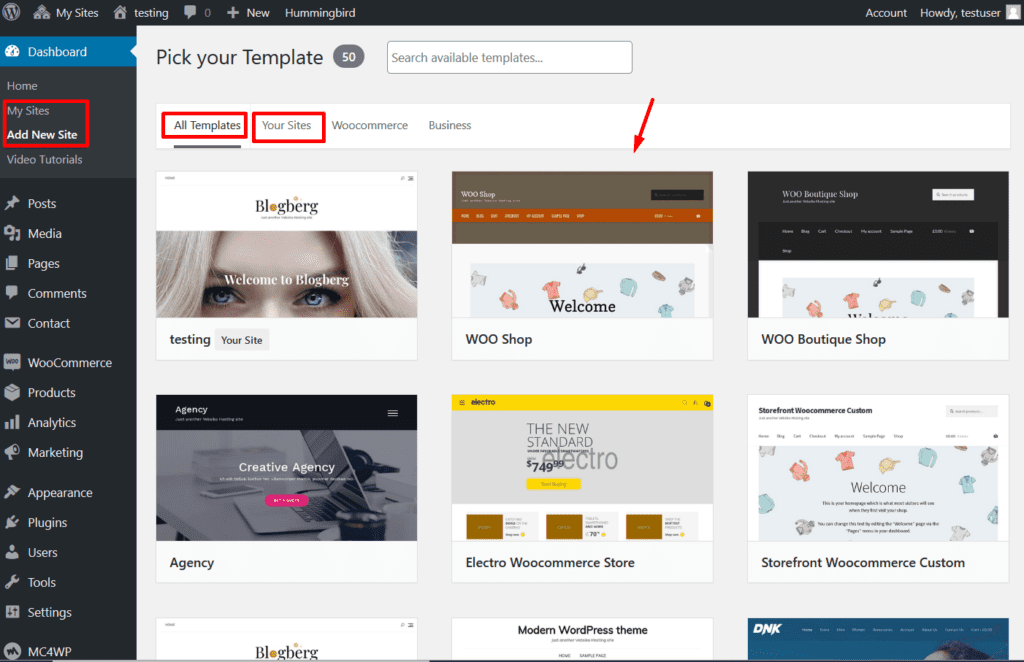 After selecting a template, fill in the required inputs of "Site Address (URL) & Site Title" then click on "Add Site" as below mentioned in the image.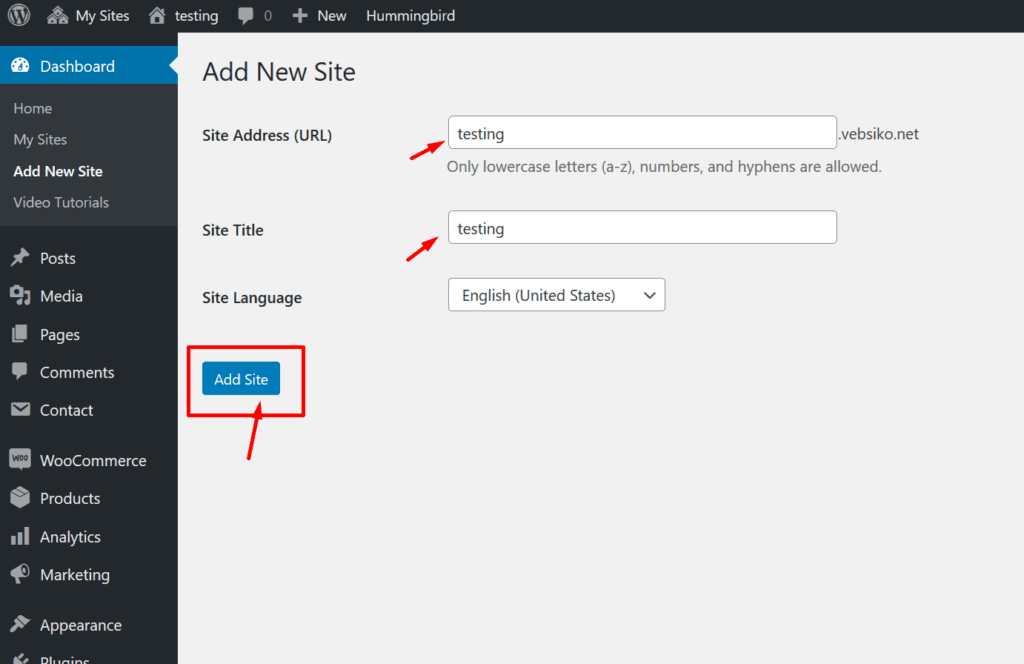 After completing all the above steps, the newly added website will be shown and listed on "My Sites" under the dashboard.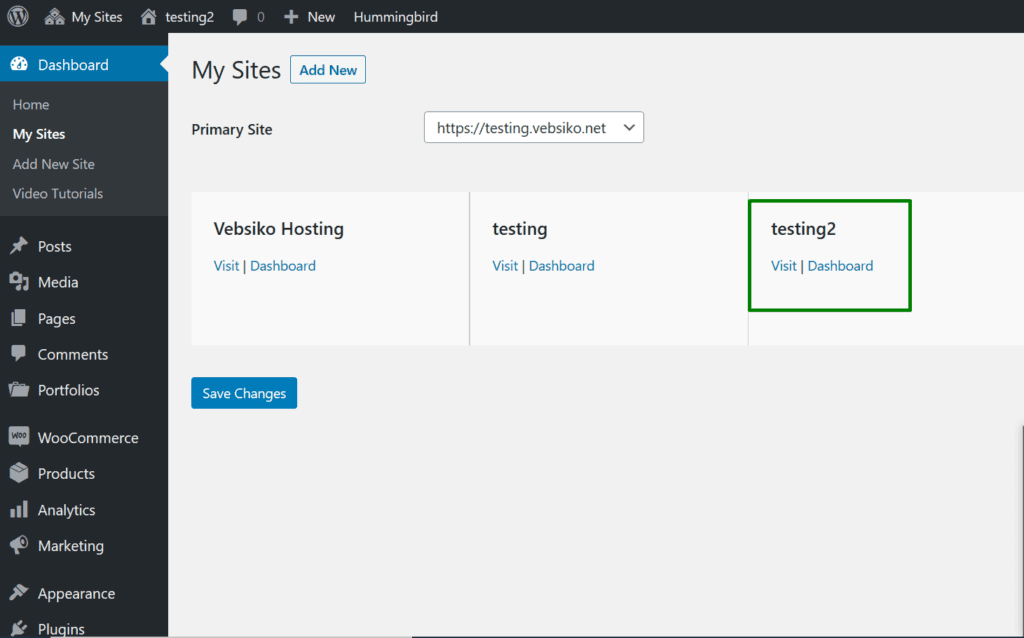 Option 2: You can also add websites from your "Account" page, click on "Add New Site" as below mentioned image, and repeat the steps as described in Option 1.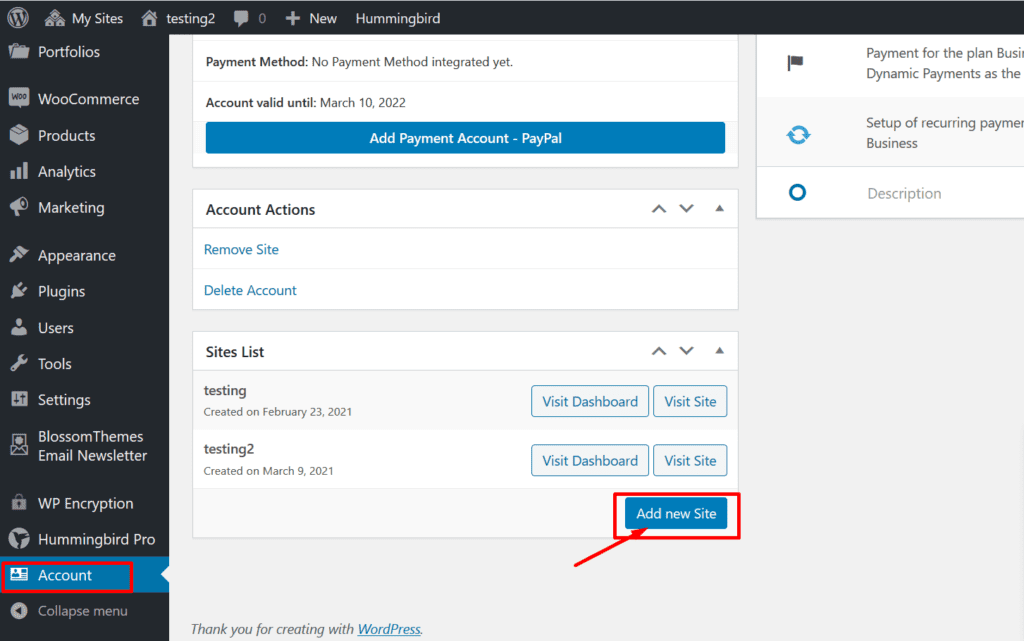 Use your Business domain name (Map Custom Domain)
You can map and able to use your purchased custom domain name from the "Account" page, please follow the below steps to map the domain correctly.
Step 1: Visit your Website "Account" page and enter your website domain name, which you own and have control to manage the DNS of entered domain name. As an example in the below image, we entered the domain name "vesbiko.in". After entering a domain name, click on the "Set Custom Domain" button.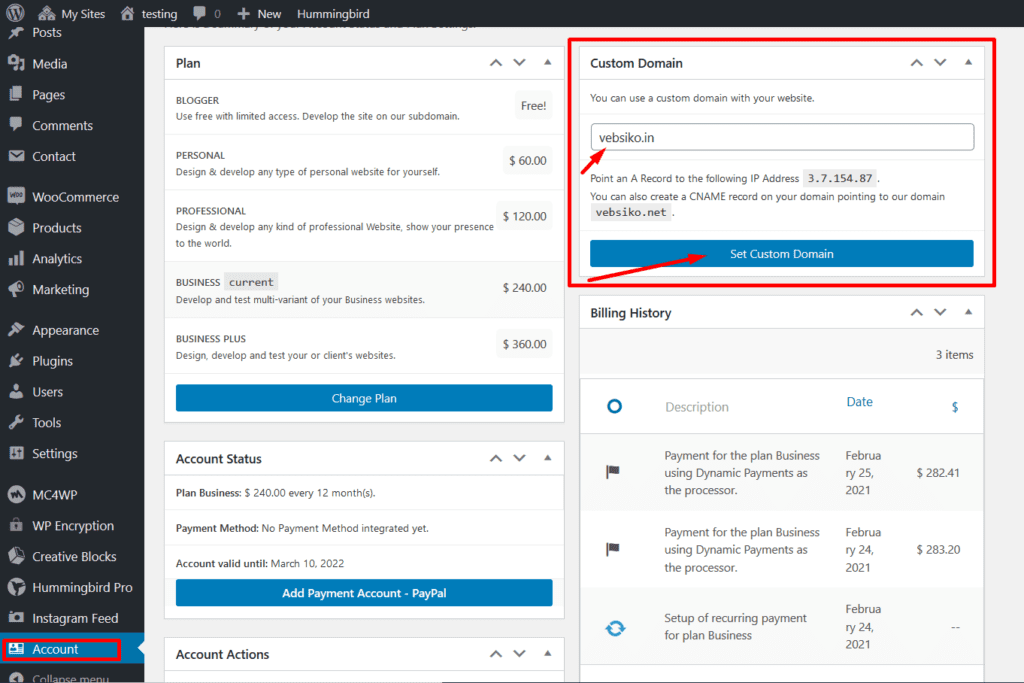 Step 2: After completing the above step, a message will pop on the screen to confirm to "Set Custom Domain", so note down the message or mentioned IP then click on the "OK" button to go ahead or "Cancel" button if any case you wish to do domain mapping on later.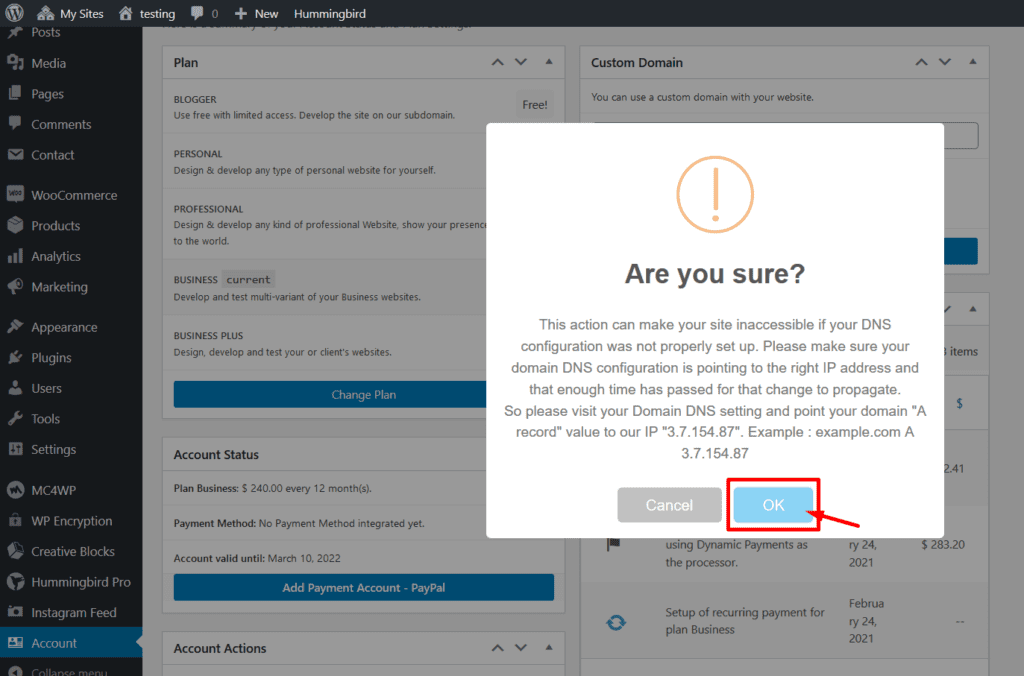 Step 3: After clicking the "OK" button, a confirmation message will show on the screen as below image. It means your own website domain is mapped with a particular subdomain and now you can use your domain in the front end to show customers.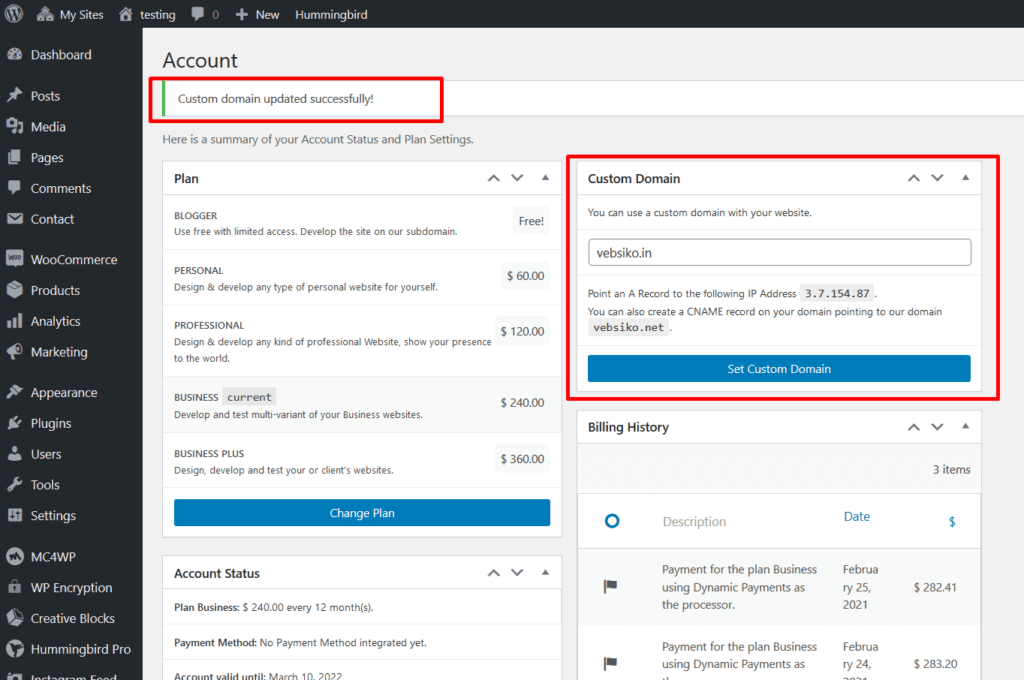 Step 4: After domain mapping confirmation, please log in to your account at the Domain Registrar website (wherever you purchased the website domain, like Godaddy.com, Google Domains, cloudflare.com, namecheap.com, bigrock.in, AWS or onlydomains.com, etc) then visit DNS settings options and point "A" record of domain to our mentioned server IP address". If you don't know how to manage DNS settings, then please go through our blog about "DNS Management" under the blog section. Below mentioned image is an example of Google Domains DNS setting.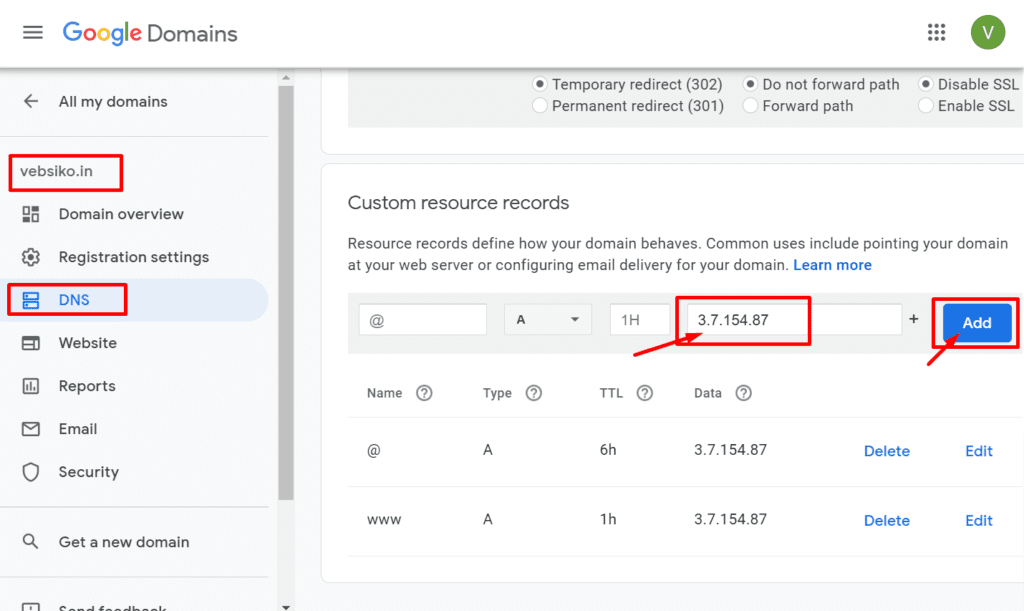 After Changing the DNS "A" record of your website domain, viewers are able to see your website domain from the front end, like the below image.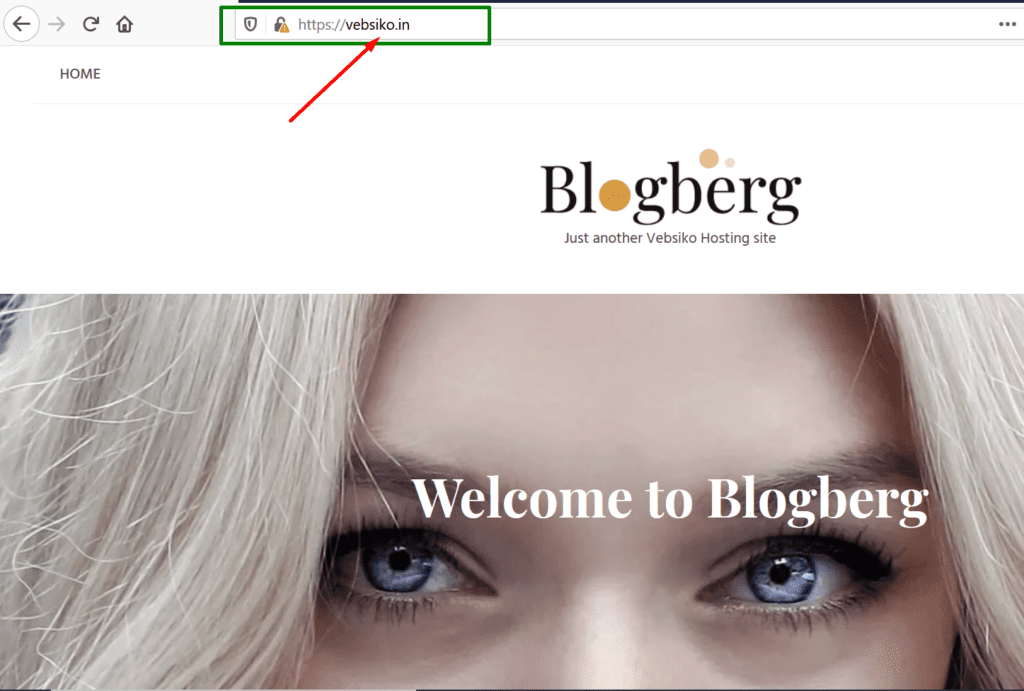 As well as you can also log in and design a website from your domain admin login, like "yourwebsitedomain.com/wp-admin". Use "/wp-admin" at the end with your domain name and log in to visit the dashboard.